Fiesta Hermosa MDW
Hermosa Beach, CA
Acknowledged as the "Largest Arts & Crafts Fair in Southern California," featuring approximately 300 artists including painters, photographers, ceramicists, jewelers, sculptors, and handicrafters. The festival takes place every Memorial Day and Labor Day Weekend (Saturday, Sunday and Monday) in downtown Hermosa Beach, CA. With the ocean as a backdrop, Hermosa Beach is an ideal place for a summer festival with balmy sea breezes and temperatures of 80 degrees—good thing Essentia Water will be there to provide better hydration!
Hola Mexico! Film Festival
Los Angeles, CA
An event that celebrates the Hispanic Overachievers in the Film Industry. The festival takes place in various venues in Downtown LA, including Regal Cinemas LA LIVE, Cinepolis Pico Rivera and LA Plaza De Cultura Y Artes. The festival is divided into 5 sections: Mexico Ahora, Nocturno, Documental, Hola Ninos, Nuevas Voces (Tomorrow's Filmmakers Today)—a growing network of Millennial filmmakers eager to voice their creative work and engage in meaningful collaborations.
WACO Theatre Art Gala
Los Angeles, CA
Founded by fashion designer, philanthropist and art collector Tina Knowles Lawson along with her husband actor, director and master acting teacher Richard Lawson. WACO Theater Center is a non profit art and performance complex dedicated to the empowerment of artists, within a diversified pool of our LA communities and beyond. Waco Theater Center encourages artists to find their true purpose and awaken their own individual power source, which fuels their art. Through the well-crafted guidance of its artistic directors, Richard Lawson & Tina Knowles Lawson, hundreds of artists and others will learn to reach tangible goals by applying a systematic road-map that allows them to put their dreams into action. "Dreams don't have expiration dates."
https://wacotheatercenter.com/2018-wearable-art-gala-official-2-2/
International Surf Fest/6 Man Volleyball Tournament
Los Angeles – South Bay, CA
A millennial surfing competition attended by 20,000+ people in the LA SouthBay (Manhattan Beach, Hermosa Beach, and Redondo Beach). Event created by owner of Beachsport.org and the producer of the original Baywatch TV series, Beachsport is the largest beach sporting company in Southern California activating over 240 days during the year. We have selected their top event, on 8/2 and 8/3, the 6 Man Volleyball tournament will take place at the iconic Manhattan Beach Pier during the International Surf Fest (8/1-8/4). The best volleyball players in Southern California will meet to show off their skills (and their best costumes!) and to defend the title as SoCal's Best."
SOUTH BEACH WINE & FOOD FESTIVAL®
Celebrating overachievers in
Miami Beach, FL
February 20-24, 2019
Hydrating the Essentia Nation on South Beach! We're thrilled to be the Official Premium Water Sponsor for the 2019 Food Network & Cooking Channel South Beach Wine & Food Festival (SOBEWFF®). This was our second year in a row at the premiere cultural event, with over 60,000 hydrated overachievers in attendance. We provided supercharged ionized alkaline water to attendees and participants the entire five-day event, as well as a lounge for festival goers to relax, rehydrate, and enjoy music.
"South Beach Wine & Food Festival® is a fantastic cultural event for the food and beverage industry and the South Beach community. I'm delighted we could support the festival for the second consecutive year and most importantly, keep attendees well hydrated," said Ken Uptain, CEO and founder of Essentia Water.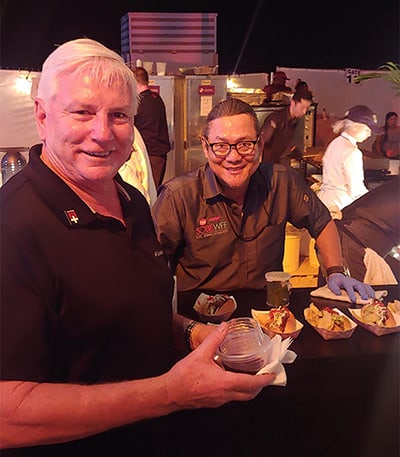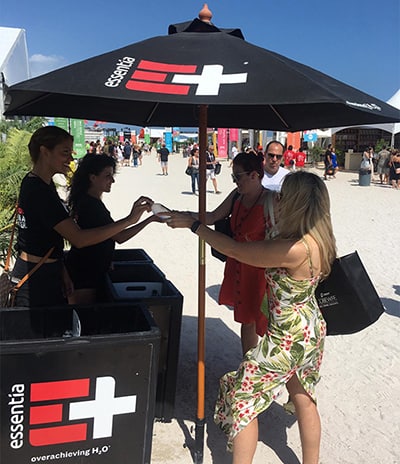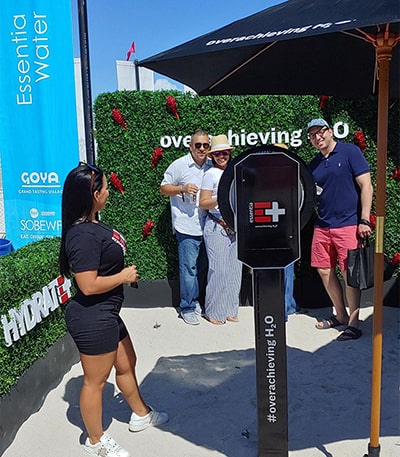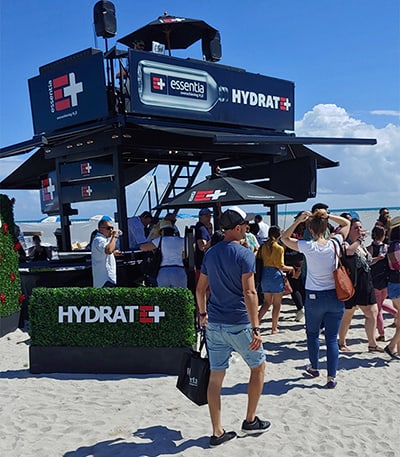 Celebrating overachievers at
The West Edge, Chelsea, NYC.
October 18, 2018
Essentia is built on the ideals of self-improvement and an unrelenting drive to improve people's lives through better hydration. The Essentia Nation is a community of like-minded people working hard to be the best versions of themselves.
We are committed to providing aspiring overachievers an inclusive and supportive community, so that all who want to achieve more can learn from the struggles, motivations, passion and successes of others.
We are at our best together.
#FireWithin #EssentiaNation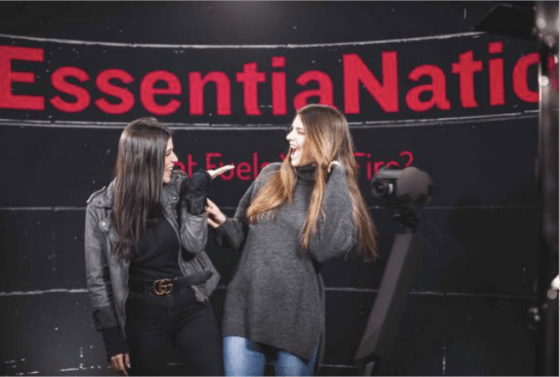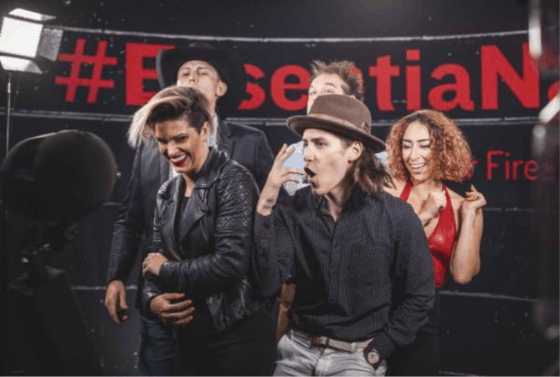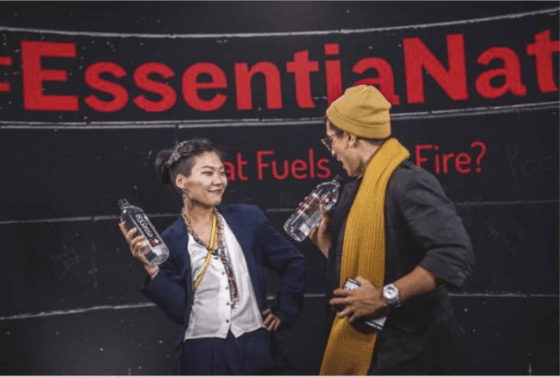 Learn from fashion designer Daniel Patrick, Ironman champion and active Coast Guard officer Jessica Lukasik, filmmaker Karam Gill and singer/songwriter Arlissa as they discuss how they work through challenges to achieve what they are most passionate about. Essentia is committed to providing aspiring overachievers a supportive community.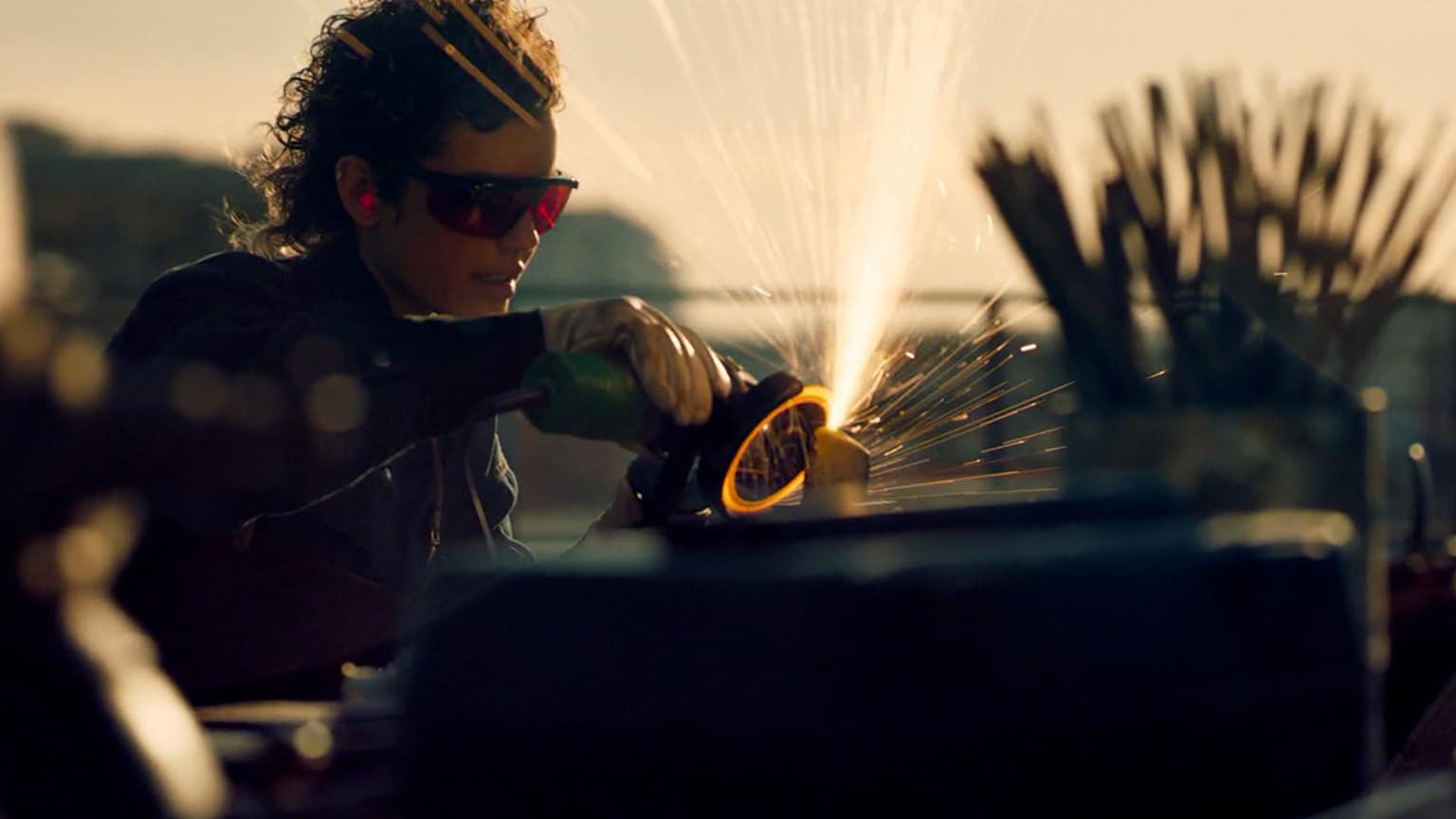 Like-minded people competing, performing, creating and striving to be the best version of themselves. We believe in living passionately, purposefully and that good hydration is the key to unlocking your full potential