Reducing our environmental impact remains one of our top priorities. And this new large-format option provides 2 Gallons of the #1 Alkaline Water in our most sustainable packaging yet.
Our 2 Gallon Box contains the same Supercharged Ionized Alkaline Water you know and love, just more of it — so you can continue to do what matters most to you.


FREE OF BPA,
FLOURIDE & CHLORINE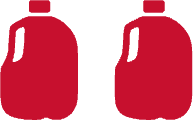 2 GALLONS OF
OVERACHIEVING H20

The 2 Gallon Box is perfect for week-long hydration or more. Its slim profile fits comfortably in the fridge and on any countertop.
With its easy-grip handle, the 2 Gallon Box is designed for portability ­— making it ideal for outings like camping, road trips, group workouts, and more.
Keep everyone hydrated at parties, tailgates, and pretty much any other social gathering you can imagine with 2 gallons of Overachieving H2O.
MADE FOR THE WEEK.
MADE FOR THE FRIDGE.
MADE FOR WORKOUTS.
MADE FOR PARTIES.
MADE FOR ROAD TRIPS.
THE ESSENTIA WATER
2 GALLON BOX.
FREQUENTLY ASKED QUESTIONS
It's the same Essentia Water you know and love. Just more of it.
The 2 Gallon Box was made to fit almost any fridge.
Our 2 Gallon Box was specifically designed to keep air out and extend freshness. Once opened, we recommend consuming within 1-2 weeks.
ESSENTIA WATER, LLC.
18911 North Creek Parkway, Ste. 150,
Bothell, WA 98011